ONLINE MEDICAL EVALUATIONS
INSTANT OSHA-COMPLIANT RESPIRATOR CLEARANCE
Stop using paper – start using Mobile Health! With us, your staff can complete their OSHA medical evaluation anywhere, anytime, on any device. Mobile Health's licensed healthcare professionals review responses in real time, reporting results directly to the Mobile Health Respirator Fit Testing Portal.
ONLINE MEDICAL EVALUATIONS ARE PERFECT FOR:
"*" indicates required fields
ONLINE MEDICAL EVALUATIONS ARE PERFECT FOR:
– New hire respirator clearance
– Companies conducting in-house fit testing
– HR, credentialing, & employee health departments
– Quick and easy annual fit testing
One platform.
Effortless Compliance.
Need help with respirator fit testing?
Fit testing team sent to your location.
6,500 locations close to employees.
DIY fit testing kit mailed straight to you.
Revolutionize Respiratory Compliance with NEW Software
Mobile Health's Respirator Fit Testing Portal serves as a one-stop shop for all things respiratory compliance and as a central repository for all documents to streamline your compliance process. How?​
Central storage of fit test results, clearance certificates, and medical evaluations, accessible 24/7 365.​
Comprehensive view of your program's progress, detailing who's been tested, who's been cleared, and their results.​
Ability to take medical evaluations anytime, anywhere, from any device, with Mobile Health Physician review.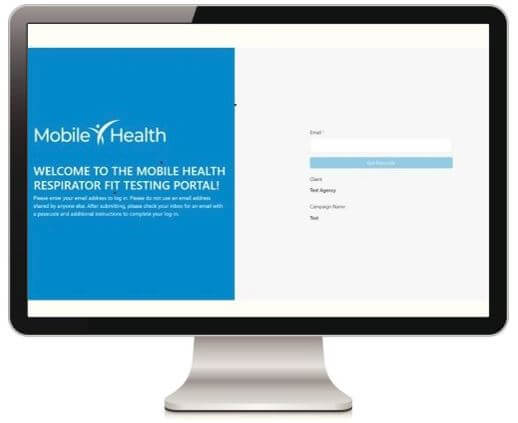 Mobile Health's Respirator Fit Testing Portal puts the power of compliance at your fingertips – giving you everything you need to know about your program, storing all documents and results. Recordkeeping has never been so easy.​ OSHA audit? Our Portal will make sure you're ready and fully compliant.
39 Years Of OSHA
COMPLIANCE
For 39 years, our cutting-edge technology and employee exam services have ensured OSHA compliance for our clients. With 6,500 clinics, on-site fit testing teams, and DIY solutions – our online medical evaluation platform further empowers you to start fit testing quickly and conveniently, on your own terms.
Employees receive a link to their online questionnaire.
Mobile Health licensed healthcare providers review responses in real-time.
Certificates are provided in the HIPAA-secure Mobile Health Respirator Fit Testing Portal upon clearance.
ANY DEVICE, ANYTIME, ANYWHERE
Your employees can complete their online medical evaluation from their mobile device, laptop – wherever! Our licensed healthcare providers are available 24/7 so that your employees can complete their questionnaire on their own time.
Our online medical evaluations are the perfect supplement to an in-house or outsourced respirator fit testing program! We seamlessly integrate with any provider to get faster medical clearance – so you can start fit testing tomorrow.