On-Site Respirator Fit Testing
Need instant OSHA compliance? We save our clients 6.4 MILLION in OSHA fines every quarter through on-site respirator fit testing. From 10 to 100,000 employees, we bring the respirator fit testing clinic to you ─ qualitative, quantitative, or both! Before your event, employees receive access to Mobile Health online medical evaluations to get the ball rolling ASAP.
Fill out the form below and a Mobile Health expert will be in touch within 24 hours.
For immediate assistance, please call 212-695-5122.
Revolutionize Respiratory Compliance with NEW Software
Mobile Health's Respirator Fit Testing Portal serves as a one-stop shop for all things respiratory compliance and as a central repository for all documents to streamline your compliance process. How?​
Central storage of fit test results, clearance certificates, and medical evaluations, accessible 24/7 365.​
Comprehensive view of your program's progress, detailing who's been tested, who's been cleared, and their results.​
Ability to take medical evaluations anytime, anywhere, from any device, with Mobile Health Physician review.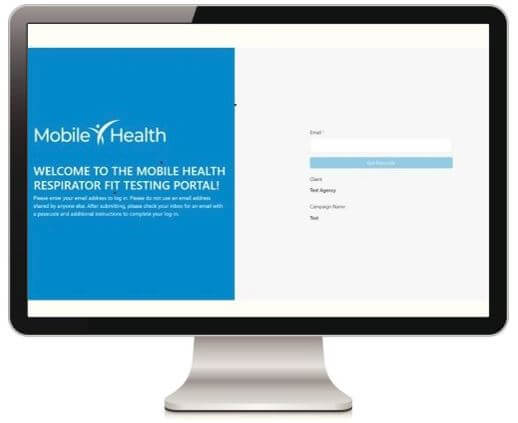 Mobile Health's Respirator Fit Testing Portal puts the power of compliance at your fingertips – giving you everything you need to know about your program, storing all documents and results. Recordkeeping has never been so easy.​ OSHA audit? Our Portal will make sure you're ready and fully compliant.
A CLOSER LOOK AT RESPIRATOR FIT TESTING:
What is respirator fit testing?
Respirator fit testing is a medical evaluation that measures whether a respirator properly fits an individual's face and provides adequate protection against airborne hazards. Wearing a tight-fitting respirator requires a fit test. Depending on the respirator type, the method of fit testing will differ.
Which fit testing method is right for me?
The fit testing method is based on the type of respirator your employees wear. All NIOSH-approved tight-fitting half-face masks are most commonly tested using qualitative fit testing, but can also be tested quantitatively. All tight-fitting full-face masks require quantitative fit testing.
What happens prior to a fit test?
Your employees must come to their fit test clean shaven, and must not eat, drink, or smoke within 15 minutes of their fit test. All employees must complete and pass an OSHA medical evaluation prior to the test, as part of your respiratory protection program.  
What happens during a fit test?
In a qualitative fit test, a Mobile Health clinician will first establish the user's sensitivity to a threshold solution. The patient will then don their respirator and be exposed to a higher concentration of the same solution. If the user does not taste the second solution, they will then pass the test.
In a quantitative fit test, the seal and fit of the user's respirator is tested by a machine, which measures the amount of the particles from the testing agent that are able to enter the mask. This is known as 'fit factor' and determines whether the respirator provides sufficient protection.
Who needs a respirator fit test?
Any employee required to wear a tight-fitting respirator must have a fit test prior to their employment, and once annually. Industries requiring respirator fit testing include:
Healthcare
Construction
Agriculture
Mining
Chemical application
Natural gas
Medical education
Emergency response
Asbestos abatement
If employers are not compliant with OSHA's respiratory protection standard, there is a minimum fine of $15,625 per violation.
Do I also need a Respiratory Protection Plan?
Yes, every employer who falls under OSHA's respiratory protection standard is also required to create and maintain a respiratory protection program. There are 7 elements every plan must address:
Respirator selection
Medical evaluations
Use of respirators
Maintenance and care
Assuring adequate air quality
Training and fit testing
Program evaluation
Wondering how to create and manage a successful respiratory protection program? Check out our Commonsense Guide to Respirator Fit Testing to learn tips and industry best practices.
We create a fully operational clinic and test employees with no disruption to the workday ─ from breakrooms to offices, Mobile Health makes any space test ready. We bring the team, supplies, and reporting technology to ensure you are fully compliant.
RESPIRATORY PROTECTION EXPERTS
Guidelines for OSHA's respiratory protection standard are overwhelming. We create a plan to make respirator fit testing, medical evaluations, and record-keeping effortless. Our tailored solutions and respiratory protection program consultants are here to help you succeed.
TECHNOLOGY FOR OSHA COMPLIANCE
Our technology ensures when we fit test your employee today, they are ready to get back on the field tomorrow. 24/7 access to fit testing results, medical evaluation records, and direct ATS/HRIS integration in your Mobile Health portal. Everything you need to be OSHA-ready.
QUALITATIVE VS QUANTITATIVE RESPIRATOR FIT TESTING
"Which type of respirator fit testing should I use?" Fit testing depends on your industry, workplace hazards, and the type of masks your employees wear! A great rule of thumb, ALL full-face masks require quantitative fit tests. For half-face respirators like N95s and EHMRs, you can perform qualitative or quantitative fit testing. Our respiratory protection experts can help you determine which solution is best for you!