QUALITATIVE RESPIRATOR FIT TESTING 
With Mobile Health, your company won't miss a beat when it's time for a new hire or annual compliance. We are the flexible, adaptable qualitative fit testing provider to protect your employees! We can come on-site to your location, you can schedule next-day appointments at our 6,500 clinics, or you can do qualitative fit testing yourself with our OSHA-compliant Fit Kit™!
Fill out the form below and a Mobile Health expert will be in touch within 24 hours.
For immediate assistance, please call 212-695-5122.
Revolutionize Respiratory Compliance with NEW Software
Mobile Health's Respirator Fit Testing Portal serves as a one-stop shop for all things respiratory compliance and as a central repository for all documents to streamline your compliance process. How?​
Central storage of fit test results, clearance certificates, and medical evaluations, accessible 24/7 365.​
Comprehensive view of your program's progress, detailing who's been tested, who's been cleared, and their results.​
Ability to take medical evaluations anytime, anywhere, from any device, with Mobile Health Physician review.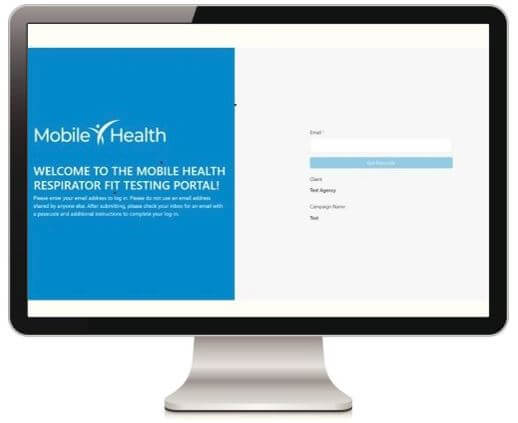 Mobile Health's Respirator Fit Testing Portal puts the power of compliance at your fingertips – giving you everything you need to know about your program, storing all documents and results. Recordkeeping has never been so easy.​ OSHA audit? Our Portal will make sure you're ready and fully compliant.
A CLOSER LOOK AT QUALITATIVE FIT TESTING:
What is qualitative respirator fit testing?
A qualitative fit test relies on the user's senses to determine if their respirator has the proper fit and seal to protect them from airborne hazards. The respirator fit tester uses a testing solution, like Bitrex or saccharin. The individual either passes or fails the test dependent on their ability to taste/not taste the test agent.
Which respirators require qualitative fit testing?
Qualitative fit testing can ONLY be used on half-face piece respirators, including:
APR: air-purifying respirators
FFR: filtering facepiece respirator
EHMR: elastomeric half mask respirator
PFR: particulate filtering respirators
N (not resistant to oil) 95,99,100
R (somewhat resistant to oil) 95,99,100
P (strongly resistant to oil) 95,99,100
HEPA (high efficiency particulate air)
Want to learn more? Check out our Commonsense Guide to Respirator Fit Testing to learn more about qualitative respirator fit testing, and the ins-and-outs of what it takes to stand up and maintain a fully compliant respiratory protection program.
ONE PARTNER FOR RESPIRATORY PROTECTION
When it comes to compliance for OSHA's respiratory protection standard, we're the only partner you'll ever need. We can provide online medical evaluations with our on-site, in-clinic, and DIY fit testing options. Not to brag, but we save our clients 6.4 million in OSHA fines every quarter (okay we're bragging). We want to do the same for your organization! You deserve to feel confident.
There is so much you do to keep your workplace happy, healthy, and compliant. Our technology is built to come alongside your efforts and make your everyday easier. On-site qualitative fit testing? As soon as an employee has completed their test, you will have their records ready in real-time in the Mobile Health Respirator Fit Testing Portal. Sending employees to our 6,500 clinics? They can schedule themselves through our Patient Portal, with results sent directly to you.
Did you know that you can perform qualitative fit testing yourself? You need OSHA-compliant supplies and training of course. That's where we come in! Our innovative Fit Kit™ comes equipped with supplies to perform up to 100 qualitative fit tests. You get to leverage our amazing technology to report your own results! These results turn into one-click downloadable certificates. Everything you need to be OSHA-compliant.
Whether you're the compliance officer, HR manager, or the jack of all trades ─ you need a flexible partner to make qualitative respirator fit testing easy on you and your employees. If you need next-day clinic appointments, let's do it. If you need us to test 1,000 employees in your conference room, we'll send the on-site team. If you want to fit test employees yourself, we'll send our self-administered Fit Kit™ to your doorstep and train you on how to use it. We're ready to serve you anywhere, in any way we can.