ONE-STOP RESPIRATOR FIT TESTING
We make respirator fit testing more accessible than any other provider. We can fit test at your location with on-site respirator fit testing, send our self-administered Fit Kit™, or see your staff  in our 6,500 clinics. 77% of Americans live within 10 miles of a Mobile Health location, so we really are just around the corner. Need online medical evaluations? We take care of that too.
Revolutionize Respiratory Compliance with NEW Software
Mobile Health's Respirator Fit Testing Portal serves as a one-stop shop for all things respiratory compliance and as a central repository for all documents to streamline your compliance process. How?​
Central storage of fit test results, clearance certificates, and medical evaluations, accessible 24/7 365.​
Comprehensive view of your program's progress, detailing who's been tested, who's been cleared, and their results.​
Ability to take medical evaluations anytime, anywhere, from any device, with Mobile Health Physician review.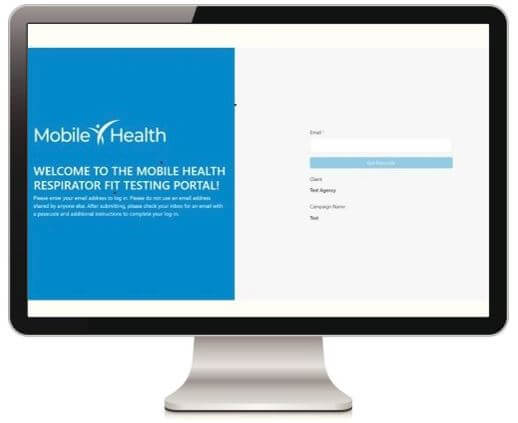 Mobile Health's Respirator Fit Testing Portal puts the power of compliance at your fingertips – giving you everything you need to know about your program, storing all documents and results. Recordkeeping has never been so easy.​ OSHA audit? Our Portal will make sure you're ready and fully compliant.
INSTANT COMPLIANCE, ONGOING SUPPORT
Our respirator fit testing solutions work together for comprehensive compliance. Clear employees for fit testing through our online medical evaluations, send the on-site respirator fit testing teams to fit test all employees at once, and then use our Fit Kit™, or 6,500 clinics to fit test new hires along the way. There are endless ways to create a program that's customized to YOU. Wondering how to get started? Check out our Commonsense Approach to Respirator Fit Testing for tips and best practices in setting up your OSHA-compliant respiratory protection program.
39 YEARS OF CLINICAL EXCELLENCE
We have been providing respirator fit testing for employees and their organizations since 1984. The clinical excellence that began in our first mobile unit is the same clinical excellence you will see through every way we fit test: our 6,500 clinics, on-site teams, and through our self-administered Fit Kit™ programs.
Our technology amplifies our respirator fit testing solutions. We are the only provider with a one-stop technology solution for respiratory protection compliance. Online medical evaluations, appointment scheduling, respirator fit testing records ─ everything is completed and stored all in one place. Plus, HRIS/ATS result integration for ultimate compliance and organization.
WE'RE EVERYWHERE YOU NEED US
We've performed respirator fit testing across the country for multi-site construction companies, large hospital networks, Fortune 500 manufacturing companies, and more. Turning breakrooms into clinics, job sites into compliance centers, and employees into fit testers. We recently performed 39,000 fit tests for one single partner, can we fit test your entire workforce?
Respirator fit Testing Faqs